Columbia County's decision to approve a 400-car rail yard amid sensitive drainages, wetlands, and high-value farmland drew criticism from Oregon's lead land use agency and opposition from local farmers and regional advocacy groups.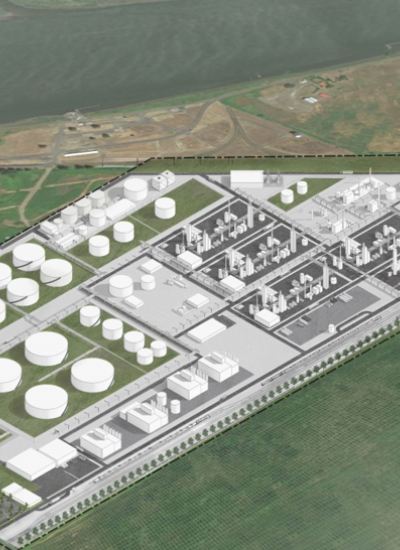 April 13, 2022 (St. Helens, OR) — Columbia Riverkeeper, 1000 Friends of Oregon, and local mint farmer Mike Seely filed a legal challenge to Columbia County's controversial approval of a 400-car rail yard for Houston-based NEXT Renewables LLC's proposed diesel refinery at Port Westward. Roughly two-thirds of those who testified to Columbia County's Board of Commissioners stated strong opposition to the project's location and impacts.
"I see extraordinary opposition to this project from my neighbors and the Beaver Drainage District, all of whom may be severely impacted by NEXT's deeply flawed plan," said Mike Seely, a mint farmer at Port Westward. "NEXT would have to relocate sensitive infrastructure that supports 5,600 acres of active working farmland, including 300 acres of blueberries, 600 acres of mint, and numerous other crops and livestock. NEXT's proposed refinery should be a non-starter, particularly where it proposes a major rail yard on agricultural land."
The Oregon Department of Land Conservation and Development (DLCD) also criticized NEXT's proposal, noting its "controversial nature" and deficiencies in NEXT's application to build a rail facility. 
"The County's decision fails to follow Oregon's land use planning program, which requires an analysis of this proposed use and its potential impacts on specific farming practices used in the surrounding area.  We have heard the significant concerns of area farmers. The County's failure to address these puts at risk many acres of irreplaceable farm land," said Mary Kyle McCurdy, Deputy Director of 1000 Friends of Oregon.
Opponents raised concerns about the track record of NEXT's backers and the dramatic increase in the size and use of its proposed rail yard.
"NEXT Energy's proposed 400-car rail yard is a major bait-and-switch for a company that once promised to avert long trains and only use marine shipping for its feedstocks," said Dan Serres, Conservation Director for Columbia Riverkeeper. "NEXT's plan is reckless: destroying wetlands, building on liquefiable soils, exacerbating diesel spill risks, and relocating sensitive drainage infrastructure against the wishes of the Beaver Drainage Improvement District. This diesel refinery proposal relies on the wrong site, poor planning, and company backers with a checkered past."
The company officials behind NEXT have a troubling track record, including involvement in a failed biofuels facility in Odessa, Wash., that resulted in a $400,000 Superfund cleanup.
Under Oregon law, the appeal will be decided by the Oregon Land Use Board of Appeals, which would likely issue a ruling in several months. Columbia Riverkeeper, 1000 Friends of Oregon, and Mike Seely are being represented by the non-profit Crag Law Center.