After an extensive national search that began in early 2021, we are very excited to share the news that we have a new Executive Director: Sam Diaz. Sam will be our 6th Executive Director, stepping into the role after Russ Hoeflich retired earlier this year. 
"Sam's experience and credentials repeatedly demonstrate an ability to work with a wide range of human beings and success in building bridges. As Sam sets off to meet people around the state I am confident that communities big and small will be impressed with our next leader." - Eloise Grout Koehler, 1000 Friends Board President
Sam is talented, resourceful, and has an extensive background with Oregon's land use planning system — just what 1000 Friends needs as we work towards meeting the goals of our ambitious 4-year strategic plan and approach our 50th anniversary. 
He is also no stranger to 1000 Friends. He served as our Director of Community Engagement in 2014 and in 2018 — shepherding our Land Use Leadership Initiative Program and directing our Residential Infill Project advocacy before serving as a Senior Policy Advisor at the City of Portland in the Mayor's Office. During his time at 1000 Friends, he reformulated how we carry out community engagement, and his fingerprints are still on much of the program and policy initiatives we undertake.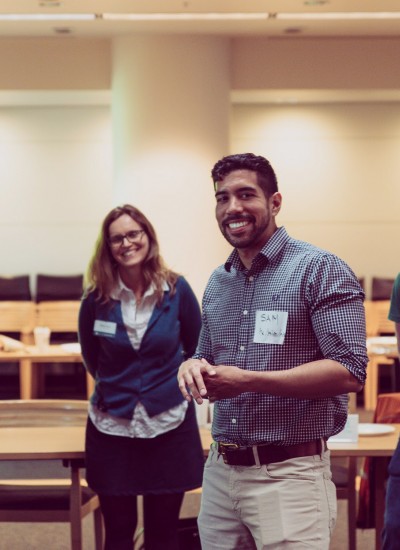 His educational background includes a J.D. with a certificate in Environmental, Natural Resources, and Energy Law from Lewis & Clark Law School in Portland, Oregon — which he has applied to his work with land use and its intersections with climate change, working lands, environmental justice, and housing availability. 
Sam grew up in Redding and Red Bluff, California on the northern edge of the Sacramento Valley. His lived experiences in both urban and rural areas in addition to his understanding of the farming community have equipped him for the task of listening and serving our statewide constituency — from the smallest community to the largest. 
"A united commitment to defend and improve the place we call home for future generations — Oregon's land use planning system — has generated policy solutions not only in Salem but across cities, counties, and regional governments in Oregon. None of this would exist without the innovation, the grit, and the hope of 1000 Friends' board, staff, and supporters. It is an absolute privilege to be able to serve the mission of 1000 Friends again." - Sam Diaz, 1000 Friends Executive Director
For media inquiries, contact Sean Carpenter at sean@friends.org.