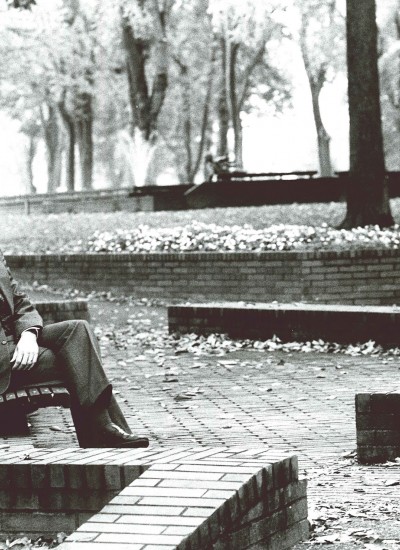 We are deeply saddened by the passing of Henry Richmond, founder of 1000 Friends of Oregon and father of land use planning. He will be sorely missed by the staff and board, past and present, all who knew him for his overwhelming passion for Oregon and absolute willingness to extend his knowledge and support to anyone and everyone.  
"Henry played a key role in my life, and in that of so many others who were privileged to work with him and for him. In many ways, Oregon is his legacy." - Mary Kyle McCurdy, deputy director
1000 Friends of Oregon would not exist without Henry, who co-founded our organization in 1974 with then-governor Tom McCall. He served as our Executive Director until 1993, but his passion for land use planning and 1000 Friends did not end there — he has been involved with 1000 Friends in many capacities up until his passing.
"You and I shouldn't claim we love Oregon more than anyone else, but that we love Oregon as much as anyone. Our thoughts today, and our deliberations to come, must spring from our determination to keep Oregon lovable and to make it even more livable." - Tom McCall
In so many ways, Oregon has Henry to thank for coming closer to the "liveable and lovable" place Tom McCall envisioned. Henry's work has protected some of the best farm and forest lands in the world for growing food and trees, preserved iconic natural areas like the Oregon coast, and cultivated towns and cities with urban growth boundaries that have created walkable, more affordable, and climate-friendly places.
For nearly fifty years, Henry has been an animating force for 1000 Friends, and in turn, the Oregon we all know and love. His groundbreaking work and spirit of perseverance will continue to shape Oregon's land use planning system and the work of our organization for generations to come.
Click here to read more about Henry's contributions to Oregon
Do you have a fond memory of Henry that you would like to share?
As we continue to honor Henry at the upcoming 50th anniversaries of SB 100 and of 1000 Friends of Oregon, we would love to hear stories from you about Henry's work and his lasting impact on our beloved Oregon.
Please contact our Chief Philanthropy Officer, Sandy Wright, to share your story. She can be emailed at sandy@friends.org