The Oregon Land Use Board of Appeals (LUBA) has ruled that junkyards are not an appropriate use of agricultural land.
1000 Friends of Oregon represented petitioners in their fight against Lake County over the County's decision to allow a junkyard and auto wrecking yard on farmland.  
Much of the land in Lake County is zoned for grazing and protected as farmland. In addition to providing the economic base for Oregon's ranchers, grazing lands are important for water storage and release, carbon sequestration, wildlife and more. Much like the farmland that grows food and fiber, grazing land is nearly impossible to get back once it is developed.  As detailed in our Too Many Homes on the Range report, such development frequently takes land out of production and fragments the agricultural land base. In cases where land is not immediately taken out of production, it is at risk of conversion as the land is resold (which happens with greater frequency by non-farmers and non-ranchers).
"Overnight, our quality of life in Lakeview, a small farming and timber town most have never heard of, was threatened by its own county officials through approval of a junkyard on neighboring farmland. It felt like the law didn't matter, nor did we. We didn't have any real land use knowledge, didn't know the first thing about conditional use permits, and never could have imagined that the illegal dumping going on next door would not only be ignored but approved as a junkyard — and without DEQ permits. Both the County and the permit applicant had attorneys. Then we heard about 1000 Friends of Oregon, our heroes!" - Lisa Hammonds, petitioner represented by 1000 Friends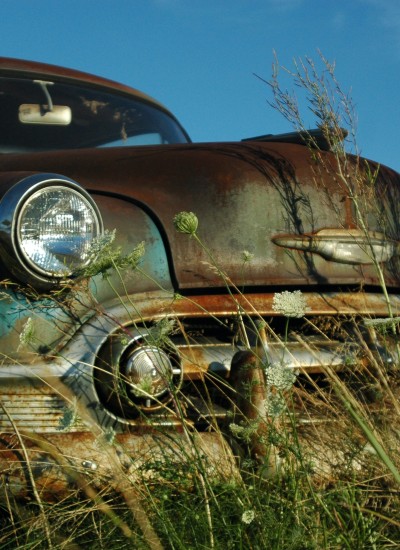 It is not as if there is a lack of land for junkyards and wrecking yards: plenty of current zoning types in Lake County already allow for them. Many Oregon cities have zones for businesses that dismantle automobiles and appliances for scrap metal and parts. Typically these zones are located where they do not create conflicts with homes, schools, and parks. Just like city residents, rural homeowners, ranchers, and farmers should not have to deal with a neighbor that wants to set up a junkyard in their backyard. Thanks to Oregon's strong protections for farmland and our agricultural economy, they don't have to. 
Fighting back against inappropriate uses on farmland is vital to protecting Oregon's nearly $7.5 billion agriculture industry. There are currently nearly 60 non-farm uses allowed on farmland: Each additional exception chips away at the stability and security farmers and ranchers rely on to continue their operations. You can learn more about non-farm uses and why they are a problem by reading our Death by 1000 Cuts report.
"We cannot thank 1000 Friends enough for being our big brother and standing up for us against what felt like the neighborhood bully. It's hard to explain all the feelings that came with LUBA's decision, enormous relief, humility and yet pride. Finally, in a world that is total chaos and seemingly unjust, a correct and logical verdict prevailed. Thank you 1000 Friends for what you have done for us and for what this will mean for Lake County moving forward. Thank you for preserving Oregon's farmland, communities and quality of life." - Lisa Hammonds, petitioner represented by 1000 Friends
Our legal representation and support is provided pro bono, and wouldn't be possible without the support of our members. Consider becoming a monthly donor today to ensure we're always ready to meet and land use challenge that arises.