How Transportation Links to Land Use
Within Oregon's land use system there are 19 goals that help prioritize and define how land should be used in Oregon. Oregon's statewide planning goal 12 aims to provide a safe, convenient, and economical transportation system. People and businesses rely on daily access to the transportation services they need. From public transit to freight delivery, transportation impacts our quality of life, cost of living, environmental quality and the flow of goods and services that support local and regional economies.
Because of this, 1000 Friends of Oregon plays a unique role in advocating for transportation systems that create healthy, livable, climate-resilient communities through land use and transportation planning. This means advocacy for diverse multimodal transportation options that get people where they need to go in safe, efficient, and climate-friendly ways.
How We're "Getting There Together"
In the Portland Metro Region, much of 1000 Friends' work is focused through the Getting There Together Coalition (GTT). GTT formed in 2017 in response to growing concerns that the Portland metropolitan region wasn't adequately planning to build the comprehensive infrastructure and transportation system in a way that effectively responds to the needs of people who live, work, and play in the Metro region. GTT is comprised of more than 60 member-and-mission-based organizations in the region that work with stakeholders, businesses, and community members — including communities of color, transit riders, youth, older adults, people with disabilities and the most vulnerable users of the roadway and transportation system. We are currently focused on helping to shape the 2020 Metro Transportation Bond Measure.
1000 Friends' Role within GTT
1000 Friends of Oregon plays a large leadership and supportive role in the GTT coalition.
Brett Morgan, 1000 Friends' Metro Regional Advocacy Manager, serves on the GTT coordinating committee which handles the coalition's day to day policy analysis, organizing and communication tactics.
Nicole Johnson, 1000 Friends' Community Engagement Manager, serves on the GTT steering committee that serves to prioritize the coalition's actions and organizing.
In addition, Sean Carpenter, 1000 Friends' Communications Director, supports GTT in their digital communication presence on social media and through managing and updating the GTT website, gettingtheretogether.org.
Our Transportation Wins 
Total project investments have increased by 36% from the original staff recommendations in order to adequately fund community needs the coalition and others advocated on behalf of. Specifically, this looks like:

a 43% increase in safety project funding that will make our communities a safer place to bike, walk, and ride transit; 

a 193% increase in public transportation improvements projects beyond the SW Corridor MAX Line, which will help folks beat congestion and get where they need to go faster.

The measure is likely to include a regional youthpass that will allow anyone 18 and younger to ride public transportation for free. This is a result of relentless advocacy from the coalition and its members.

Only 5% of the measure is for pure roadway projects. This is an extremely low number and is a huge win for transportation advocates. The original number was around 25% for roadway projects.

Partnering with regional stakeholders to work on and improve Trimet's Transit-Oriented Development (TOD) Guidelines. TOD dictates how land immediately around transit lines is developed, and we are working to make sure the policy has a strong equity component that includes affordable housing as a part of a TOD policy.
More on our transportation work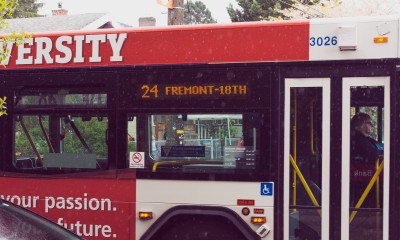 Public Transportation Is a Lifeline
The COVID-19 outbreak demonstrates that public transit is vital. For crisis resiliency, we must invest in and improve transit systems for the health of our communities.